Book Fetish: Volume 339 | Book Riot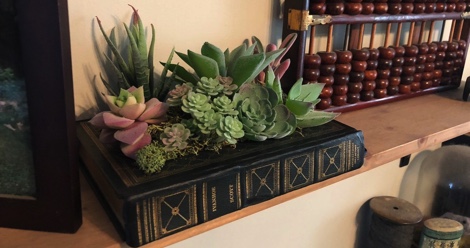 This week's Book Fetish is sponsored by The Lost Man by Jane Harper.
Two brothers meet for the first time in months in the Australian outback; their third brother lies dead at their feet in this stunning new standalone novel from Jane Harper, the New York Times bestselling author of The Dry.
Book Nerd Embroidery: For the bookishly craft-inclined without the craft talent.
If I Can't Take My Book Tee: Why else would I bring my big purse? A hardcover isn't going to sprout legs and follow me.
Succulent Book Planter: Don't worry, the seller uses only priceless, rare first editions to create these gorgeous planters (succulents included!).
Bookshelf Necklace: This abstract rendering of a bookshelf is a cute way of keeping your literary pursuits close to your heart.
Binge Reading Kit: When you just want to totally introvert with a stack of Business Relationships, you obviously need this nifty kit to help you do it.
Sign up to receive Check Your Shelf, the Librarian's One-Stop Shop For News, Book Lists, And More.
Thank you for signing up! Keep an eye on your inbox.
By signing up you agree to our Terms of Service
In a book lover's life, there's nothing as magical as a perfect, surprising recommendation from someone who just
gets
you. But finding those people can be tough! That's where
TBR
comes in. Go here to find out more, or just click the image below: