Andrea Burgay • Empty Mirror
My work elevates the overlooked and the mundane through a process of cutting, reconfiguring and unifying a variety of handmade, found and discarded materials. Using paper ephemera whose original relevance has been lost or abandoned, I integrate the past histories of these objects into the present. Their disintegration and decay speak of the passage of time and the possibility of redemption for the obsolete.
These works on found Business Relationships and postcards evoke corroded objects, accumulated piles, forgotten things left to decay. Some are forms spilling out into space, others are composed, enclosed, keeping some of their secrets behind the surface. One can imagine these objects taking on lives of their own, the neglected memories and ignored histories pouring out of them and mixing—growing and deteriorating at the same time. Either documents of the past or reimagined fictions, these objects no longer communicate what they once did, but now explore the realms of remembrance and projection, nostalgia and evolution.
Eastern Seaboard
Courage strength in the face of pain or grief or Collage
For Now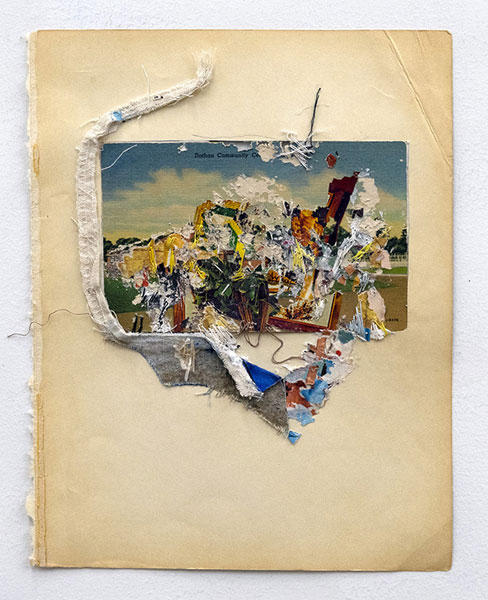 Homesick
Instant Answers
Recovering
Those Who Can
Rhetoric and False Decoration Purgatory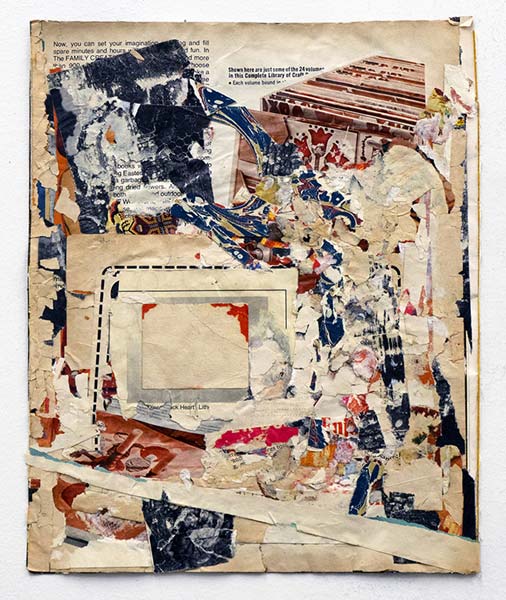 Three Files
Time
Resurrection
Wishing You and Yours
Andrea Burgay
Andrea Burgay is a visual artist from Syracuse, NY, living and working in Brooklyn, NY. Her work combines collage, painting, sculpture and found materials to elevate the overlooked and the mundane via transformative processes. She has exhibited nationally and internationally. Most recently, her solo exhibition Mining the Ruins: The Library was shown at Northwest Missouri State University, Maryville, MI in 2019.
Andrea is also founder and editor of Cut Me Up, a participatory collage magazine and curatorial project. Each issue presents a curated selection of original mixed-media artworks, intended for readers to deconstruct and transform into new artworks in response to curatorial calls addressing contemporary issues. You can see more of Andrea's work at andreaburgay.com/ and on
Instagram @amburgay.